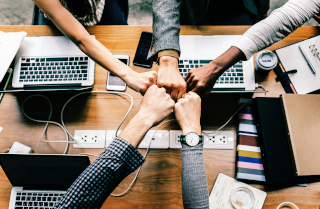 VISI­ON­­­­­­­­­

­To be a premier IT solutions provider that enables superior business results.­­
MISSION

We provide IT Infrastructure and Collaboration Solutions that enable clients to achieve their business objectives.
Core Values

To continuously attain Technical Excellence and Innovation, and provide effective solutions to our clients' needs.
To strive to become a Catalyst for Positive High-impact Change for clients.
To maintain Professionalism and Integrity in our image and work ethic.
To nurture our Passion to provide ­High Quality Service that makes us a Trusted Partner.
To provide an excellent working environment conducive to Positive Teamwork and Synergy.
We achieve these results through Skills sharing and Collaboration.

 
The true assets of our company are in the skills of our select employees, the products we carry, as well as the satisfaction of its client base. The goal of UR Solutions is to put together these assets and create an entity that will be extremely focused, flexible, efficient, and ultimately successful.